On 11 March'15 the assistive device distribution ceremony for special need child was organized by Jhanjira Samaj Kallyan Sangstha (JSKS) with the supported by Plan International Bangladesh, Australian Aid, CDD and cbm at Jhanjira Samaj Kallyan Sangstha, Project Office, Tetulia, Chirirbandar, Dinajpur. It was held in a festive mood where special need child with their guardian, SMC, school teacher and VDC representatives were present. Honorable Chairman of Tetulia Union – Mr. Sunil Kumar Saha presided the device distribution ceremony where Mr. Mobarak Hossain – Program Unit Manager-Plan International Bangladesh-Dinajpur Program Unit was present as a chief guest and Mr. Mustafa Kamal – Executive Director was also present in the event.
At the end of event Ms. Rashida Begum – special need child's mother said, my child is physical disable. She is a student of class three. She wants to go to school regularly but earlier she did not do properly in absence of assistive device. Thanks JSKS for giving the device. I think from tomorrow my daughter will go to school regularly".From this event 14 (from SIP project – 6 children (boy-4, girl-2) and from CBR project – 8 children (boy-5, girl-3) special need children got 14 devices as their needs which were Hearing aid – 3pcs from SIP project, Wheel chair – 3pcs from SIP project, Standing frame – 3pcs from CBR project, Special chair – 04 from CBR project and Walker – 1pc from CBR project.As a chief guest of assistive device distribution ceremony Mr. Mobarak Hossain – Program Unit Manager said that, I am happy for joining this event. Till now many people hide their special need child. Also ignoring the special need child in many aspects but it should not be. The special need child has every right. We have to aware their right and we have to extend our hands to them for their development. He requests to parents as well as school teachers for including in education and support for quality education. He also requests to honorable Chairman for discussing in Upazila coordination meeting about disable friendly school premises including toilets and cards for disable persons. At the beginning of the session Mr. Mustafa Kamal – Executive Director said that, in 06 unions of Chirirbandar Upazila we are working for education development through School Improvement project with the supported of Plan International Bangladesh and in Tetulia union we are working through School Improvement Project and Community Based Rehabilitation Project. He said that every child has the rights of education. Special need child is not our liability. We have to love them and support them for education as well as holistic development of their life.
Mr. Altab Hossain – special need child's father said, my son cannot hear anything. When I have gone to the doctor with the supported by JSKS, doctor assured me that the hearing aid can help my son for hearing and later he will talk. I am very much happy for supporting assistive device. I wish my son will call me" Abba" soon and he will better in his student life. I am waiting for this time. Thanks JSKS and its funded organizations for giving the opportunity."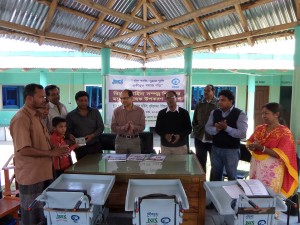 In the closing session president of assistive device ceremony Mr. Sunil Kumar Saha – Chairman – Tetulia Union Porisad said that, our Telulia Union declared as a disable friendly union. It was joint effort. I am more sensitized about disability. We know that every mother loves her child and we have to loves special need child/disable person. We have to create enabling environment to them. If we want development we have to provide opportunity to disable persons. He thanked to JSKS and Plan International Bangladesh for supporting assistive device as well as development programs
.