Objective:
To enhance skill development for play & corner material making.

To learn how to prepare low cost play materials through using local raw and junk materials in local level for their children.

Participants feel the value of play materials for child development.

To enhance communities ownership on the ECCD program.
We have completed material development workshop for 150 SBKs & 35 Pre-primaries of Chirirbandar Upazila (6 Unions) for CY'2015. MDWs were organized daylong per batch centrally based. There was total 10 batches material development workshops 02 for Pre-schools & 08 for SBKs. Total 294 participants (19 male & 275 female) were actively participated at different venues. Each workshop day long start from 9:30am to 4:30pm held on 26 February'15 and ending 12 March'15. All participants were come from 21 villages in Chirirbandar Upazila. In workshops participated the concern SBK's facilitators, pre-school teachers, community learning resource persons (CLRP), resource trainers (RT), DAC Plan International Bangladesh, VDC, SMC & CMC members. Material development workshops organized & facilitated by JSKS and assisted by VDC.
Outcome of the Workshops:
Participants and community people have learned how to prepare play materials for their children by junk & raw material.
Participants enhance skill develop for play materials make by junk and raw materials.
Lots of play materials are developed in that 10 batches workshops (08 for SBK & 02 for PP).
VDC, SMC & CMC persons provided physical voluntary service for material development workshop (full day). So, they feel ownership on ECCD interventions.
Participant's enjoyed those activities.
Participants and community people understand the important of play materials.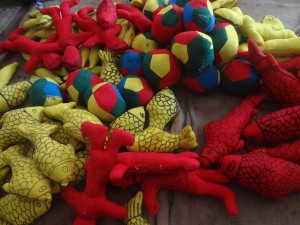 After ending the workshop huge numbers of play materials have been produce / developed. Ending the workshops all materials have been distributed to 150 SBK facilitators and 35 pre-primary teachers.