Reshma Khatun a Person with Disabilities and she is suffering in Cerebral Palsy (CP). She is 20 years old and living in Purbo Saintara Village of Saintara Union under Chirirbandar Upazila. She was born with the CP. She couldn't walk or standing. After her birth, father and mother left her and went to Dhaka. They were divorced and father married to other and mother is staining at Dhaka. Reshma's grandmother (Nani) was taken responsibility to ensure food & other support. But her grandfather's (67 years old) main sources of income are cycle mechanic and also living with extreme poverty.
Once JSKS was implemented Promoting Rights and Access to Inclusive Education for Children with Disabilities Project and the present PC of JSKS YOUTH Project Morzina Rupa was the Project Officer of the Project. However, Ms. Rupa identified to Reshma that she was in her village but Reshma and her grandmother does not think about the Reshma's education. Rupa admitted her in the nearest primary school namely Purbo Saintara Primary School and she started her education. JSKS ensured follow up to Reshma and provided necessary assistive device for schooling like Tri-Cycle. JSKS provided several times the devices. And now Reshma is reading in Okrabari College and she is the HSC exam. candidate. And it was possible due to Reshma and her Grandmother's commitment.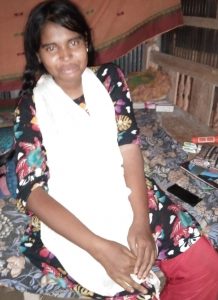 JSKS is implementing the Youth Opportunity for Unity, Tolerance & Harmony (YOUTH) Project, funded by Manusher Jonno Foundation (MJF) & FCDO (former DFID) and Reshma involved with the project since its inception. She is attending Life skill Sessions regularly. Due to COVID-19 and lockdown, people are not moving to other places. So that Reshma's grandfather is also suffering from food crisis. The Union Parishad helps them but it was too small amount. When Reshma known the decision that she will get Tk. 2500, she and her grandmother were so excited and happy to know that JSKS is always with them. Obviously, it will help to continue her education.
Reshma want to complete her education and want to be a teacher. We wish her success in future. She also thanks to JSKS and MJF to support her and expect that she will get more support from the organization in future.