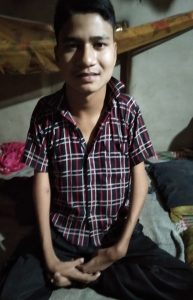 Yes, I am saying about the Liton Roy. He is reading in the HSC at the Ramdubi Hat High School & College. Liton is suffering from Cerebral Palsy (CP ) by birth. His fathers name is Lolit Chandra Roy and mothers name are Nomita Rani Roy. Liton's have only one sister. His father Mr. Lolit Chandra is a day laborer and mother is a housewife and living with extreme poverty. They haven't any land except homestead 1-2 DM. Without selling labor, they didn't manage their daily food and other cost.
Being a local organization JSKS is working since long time and during the implementation of Promoting Rights and Access to Inclusive Education Project (2009 to 2011), JSKS's Project Officer identified to Liton that a Children with Disabilities are in Hargaon village under Sundarban Union who is not coming to School due to his disability. However, after necessary assessment, JSKS advocate to school and admitted him to nearest Government Primary School and developed the school infrastructure as disable friendly school. By this time JSKS provided necessary training to teachers and education related officials also.
Yes, the project has been finished but JSKS was always with Liton and now he is reading at college level. Due to his disability of CP, Liton always using low trolly and his friends help him to pull the trolly during schooling. Even they haven't financial capacity to purchase the Low trolly and always JSKS provided him the low trolly.
However, JSKS is implementing the Youth Opportunity for Unity, Tolerance & Harmony (YOUTH) Project and Liton is the direct beneficiary of the project. During the lock down period Liton's family was suffered from food crisis. When JSKS started the Cash support programme, Liton was selected as beneficiary and he got support 2 times already. Liton including his parents is so happy for the support and it is helping to continue his educational cost. Due to physical growth, Liton's need a Low Trolly but the trolly's price is very high and it is not possible to manage the amount from these small amounts. JSKS is trying to manage the fund for low trolly.
We wish Liton's success in future.